For once at the Scottish Parliament, an msp decides to resign amid a potentially serious conflict of interest situation ...
Annabel Goldie MSP, leader of the Scottish Conservatives, has resigned from the Convenership of the Justice 2 Committee, which is about to start considering the proposals for reform of the legal profession in Scotland, and particularly the question of regulation, which has spawned a real nest of crooked thieves within the ranks of Scottish lawyers over the years ...


Link to the Scottish Parliament's Justice 2 Committee :
and if you have something to contribute to their consideration of regulation of crooked Scottish lawyers, use the contact details on that page.


It's odd .. but I was just about to ask the Justice 2 Committee if there were going to be any changes of position in it's leadership ahead of their consideration of this issue ... bearing in mind my previous bruising battle with two earlier Justice Committees at the Scottish Parliament, which saw lawyers, advocates, and even the wives of senior Law Society of Scotland officials charged with 'liasing with the Scottish Parliament', serve on previous Justice Committees which in an earlier case, thwarted an attempt to raise the issue for consideration, and in the "regulation of the legal profession inquiry" .. attempted to muzzle clients and adverse publicity against the legal profession .. even actually allowing outright lies to be told during Committee hearings by senior Law Society of Scotland officials and officials of the Master Insurance Policy ... and of course .. the Committee did nothing about that, because it was the lawyers who were lying, so that was ok .... but if a client had lied .. .I bet they would have fed them to the lions ...


So, with the Justice 2 Committee .. I wonder if, this time, clients will be allowed to appear before the Committee to tell of their experiences with the legal profession ?? .. (this was banned in an earlier inquiry after demands by the Law Society et all to keep out what could be a long trail of 'bleeding victims of crooked Scottish lawyers' from the Parliament and the inevitable publicity which would have been generated from such testimonials) ... Certainly the Justice 2 Committee has plenty of evidence from clients to-date, the Scottish Consumer Council, the slightly fiddled Scottish Executive Consultation .. which saw senior Law Society staffers demand that the submissions not be published on the web or made freely available ....


I don't have a problem with Ms Goldie doing what she has done. In fact, I admire her for her honesty and professionalism in her action here ... something far from what we saw at previous Justice Committees, where such questions of conflict of interest against members would be dismissed out of hand, even if they were taken to Jim Dyer (the Scottish Parliamentary Standards Commissioner) to investigate, and then of course, unsurprisingly thrown out ... but if Mr Dyer troubles himself to read this blog, he will realise that a complaint he threw out in 2005 which included David Mcletchies actions gave some people some ideas ..... didn't it, Mr Dyer ... and what does this prove - well .. sometimes theres a way to circumvent those who don't want the truth getting out .... aye aye ! .. and there was me thinking that after Henry Mcleish, they would have been a bit more careful ...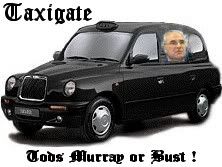 Anyway, read on for the article, from "The Scotsman" newspaper on Annabel Goldie's decision to resign from the Convenership ... proving at least in this case, a lawyer has her ethics ahead of her own interest ... and whether Ms Goldie supports independent regulation or not, we will just have to wait and see ....
Scots Tory leader steps down from key post to avert row
MICHAEL HOWIE
THE leader of the Scottish Conservatives has resigned from a key parliamentary post in an effort to head off a "conflict of interest" row.


Annabel Goldie is stepping down as convener of the powerful Justice 2 committee just before it begins scrutinising proposals for a major shake-up of legal services, including plans for an independent legal complaints body.


Ms Goldie is a partner in the Glasgow law firm Donaldson, Alexander, Russell & Haddow and a member of the Law Society of Scotland, which under the proposals will see its powers of self- regulation reduced. She is no longer a practising solicitor, but despite that has decided to quit to avoid a potential conflict of interest.


She said: "I have intimated to the parliament my desire to step down from the Justice 2 committee.


"This is a suitable time to do so as the committee will be looking at legislation on the regulation of the legal profession. Stepping down now avoids any perception of a conflict of interests."


Under rules of parliament, committee members are expected to disclose a potential conflict of interest, but are not required to step down.


Political opponents questioned how long she could have continued such demanding twin roles.


Nicola Sturgeon MSP, the deputy leader of the SNP, said: "I have always wondered whether she could combine being leader of a party with leader of a committee."